The flu season is already here, you can protect yourself from getting sick by just simple and easy ways. How? follow the easy step-by-step techniques!

1. Avoid close contact


Avoid close contact with people who are sick. When you are sick, keep your

distance from others to protect them from getting sick too. If possible, minimize going

out and going to the crowd during the flu season.



2. Stay home when you are sick
If possible, stay home from work, school, and errands when you are sick. You will help prevent others from catching your illness.
3. Avoid staying out in the cold and dry environments
When you inhale cold air for long time, capillary vessels on mucus membranes of the nose and the throat are constricted, and ciliary movement is disturbed. Cilia are found in the lining of the trachea (windpipe), where they sweep mucus and dirt out of the lungs, and the lining of the nose as well. Cilia discharge alien substances invaded. As a result, you are more vulnerable to invasive virus.

4. Maintain proper temperature and moisture
Virus love low temperature and moisture. When it is dry, virus hang in the air for a long time. Therefore, try to maintain appropriate temperature and moisture in a room by using a humidifier. It also can moisturize mucus membranes in the nose and the mouth.

5. Cover your mouth and nose


Cover your mouth and nose with a tissue when coughing or sneezing. It may prevent those around you from getting sick.

6. Avoid touching your eyes, nose or mouth
Avoid touching your eyes, nose or mouth. Germs are often spread when a person touches something that is contaminated with germs and then touches his or her eyes, nose, or mouth.

Washing your hands often will help protect you from germs. Virus and bacteria exist everywhere you can imagine, literary, everywhere – door knobs, elevator buttons, banisters, straps, touch screens, and etc. – Virus, which left from carriers, can survive at least 20 minutes. Under an optimum condition, they are capable of surviving for hours. Hand washing is said to be the best way to prevent virus, bacteria and germs from infecting you (See 6). However, even people who wash their hands often do not know proper hand washing techniques (Fig.1). Check the figure 1 below. You can print and put it on the wall in front of the sinks.


Gargling is effective to wash away germs in the mouth and the throat.
9. Wear a mask
Many masks can not prevent virus and bacteria from invading, but saliva and phlegm can not pass through gauze of a mask, so it's effective not to pass germs to others to a certain extent. Most of all, it's very effective to maintain moisture in the nose and the mouth (Virus hate moisture. See 4). Moisture produced by breathing stick to a mask, you inhale the moisture back to your system moisturizing mucus membranes in the nose and the mouth.


10. Take enough rest and nutrition
Building up physical strength and increasing the power of resistance to virus and bacteria prevent you from infection and contagion. An ideal sleeping hour is at least 7 to 8 hours.

11. Stop smoking (For smokers)
Smoke of cigarettes contains chemical that deteriorates a function of cilia slowing down the recovery process (See 3).




Figure 1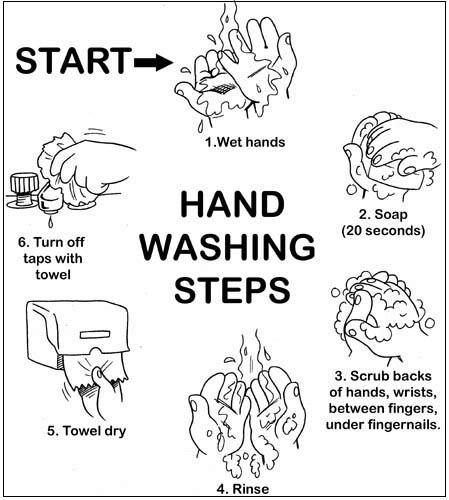 This information is not a medical statement. Therefore, it is not intended to diagnose, treat or cure any of medical conditions. Consult your doctor before you try this at home. We are not liable for any consequences which may occur by doing this.